Sign Service – Capabilities
Lighting Maintenance Inc offers fast electric sign repair service throughout our vast service area. Our sign technicians are friendly, fast and efficient. Whether you need neon sign repair, large pole sign maintenance, or even LED sign repair, we are trained to find problems big or small and repair them quickly and efficiently. All of our replacement products come with a 1 year parts and labor warranty protection plan.
Sign – Available Services
Lighting Maintenance provides service to Neon, Fluorescent, LED and, Pylon signs. Whether you have lights out, would like to change how your sign is controlled or what time it comes on, or maybe just a cleaning of the sign face to bring the life back to one of your businesses main attractions.  Some signs are very delicate and should only be handled by experienced technicians to avoid damage.  Lighting Maintenance can also replace broken, cracked, brittle and discolored sign acrylic to help your business shine..
Sign – Installation
Lighting Maintenance Incorporated is a fully licensed and insured sign installation company with convenient locations in Baltimore, Rockville, Springfield, Richmond and soon, Salisbury.  We offer professional and reliable crane and bucket truck services, which are complemented by our outstanding customer service.
We are dedicated to providing the highest quality installation services. We understand customer needs, and consistently complete projects with 100% customer satisfaction. Our commitment to timely scheduling will always have your job completed on time, every time.
With years of experience, our expert technicians offer you the opportunity to complete your task on time with the highest quality and personal attention to detail. While we are on site, we are a representative of your business and we understand the importance of your reputation.
Neon, Fluorescent & LED Light sources are the main three lighting sources for all signage products. In areas that are prone to moisture from the weather, sign washing and humidity, the low voltage LED is a much safer alternative to 600v fluorescent and certainly better than up to 15,000v neon. Neon signs slowly leak their gases out, which is why you sometimes see neon signs flickering or with part of the sign out. Unlike neon and fluorescent tubes, LED modules contain no harmful chemicals or reactants that might cause environmental issues. LED lighting was developed to meet the changing needs of the industry, the reduction of energy costs and signage maintenance expense.
LED's can save you up to 70% or more in energy costs. LED technology produces a sign that is very bright yet clear and easy to read from a distance. LED lighting with its lower power consumption, longer lifespan has been widely accepted as the new type of environment friendly source of illumination. LED lighting systems are delivering the highest quality signage lighting available on the market.
Let Lighting Maintenance Incorporated design, build and install your store front and pylon sign.
Sign Service – Equipment
We have over 30 bucket trucks in our fleet. Our bucket trucks range in size from 30' to 100' in height. All of our bucket truck operators are certified and have extensive safety training.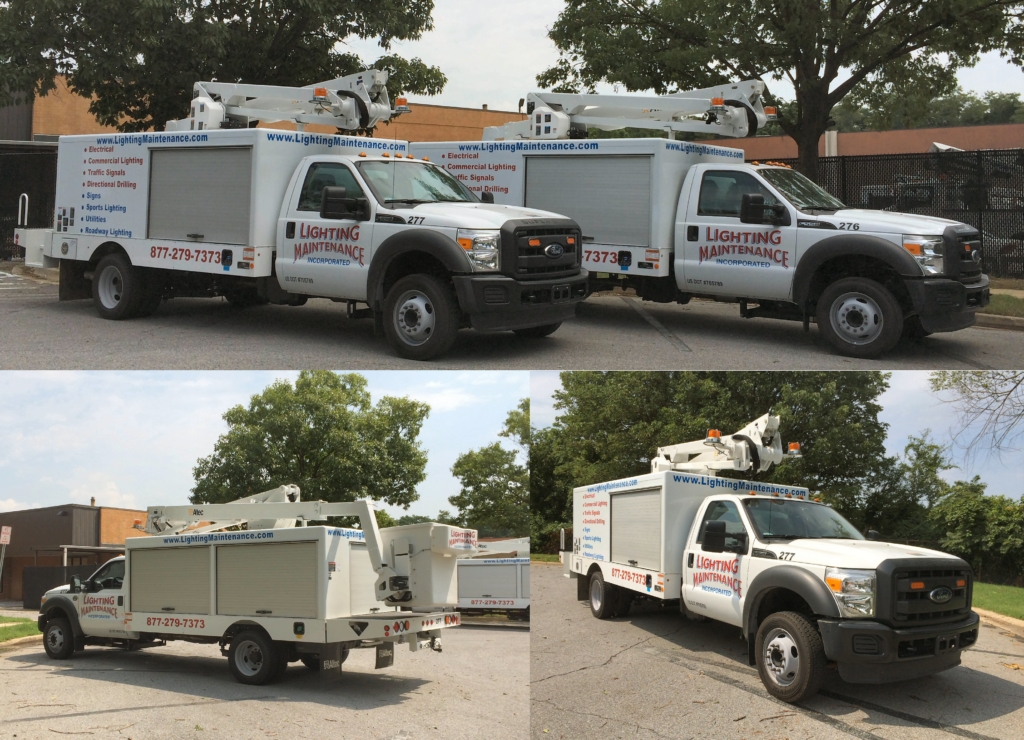 Electric Sign Repair Service